Despite a year of pandemic headwinds and economic recession in all four corners of the world, digital health across the globe captured a record-breaking $25B (all currency in USD) in venture capital funding, which excludes all M&A and IPO activities, up 34% from 2019.
---
UPDATE: The four Digital Health Ecosystem Key Trends Reports are out. Click on the links below to get your copy.
United States | Asia Pacific | Europe | Middle East
Galen Growth, the global leader in digital health intelligence, analytics, and matchmaking, is delighted to share our year-end 2020 Executive Insight of our Global Digital Health Ecosystems Reports. Our annual sought-after go-to-reference reportage on key digital health ecosystems across the globe will be published on the 7th January 2021. Four reports will be published, each covering the USA, Asia Pacific, Europe and the Middle East regions. Subscribe to us to be notified when the reports are published.
In the following weeks, Galen Growth Research team will be hosting webinars to complement each comprehensive report with unique perspectives. The research team will focus on the key funding trends and deep dive into drivers such categories, disease areas, partnerships, and more to provide you with indispensable information to start your 2021 Digital Health year.
Global digital health finished 2019 on a high with key stakeholders focused primarily on macroeconomic conditions and expressing concern about the effects of a potential economic downturn. Not one expected 2020 to play out the way it has.
In January 2020, COVID took over the world, starting in China and rapidly made its way West. As expected, the first few months of the year were sluggish, but the resilience of the global ecosystems kicked in which saw the second half of 2020 roaring back.
Global Digital Health: Resilience in the Face of Global Adversity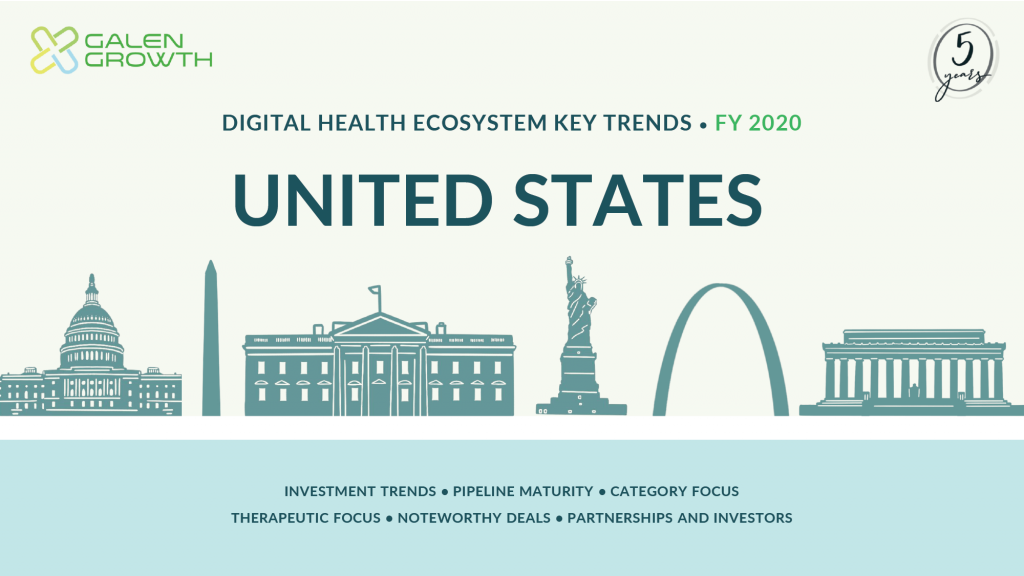 With an increased public interest in health technologies, driven by the ongoing global pandemic, Digital Health ventures across the globe raised more than $25B across 932 deals in venture capital funding, down from 1219 deals in 2019, marking the largest funding year ever recorded, driven by the USA and China ecosystems.
Total global deal value in digital health in 2020, which includes venture capital and Exits (M&A, IPO & SPAC deals), closed at $71B, up 3.2x from 2019, across 1025 deals.
The main contributor to this impressive performance is the United States (U.S.A.) which accounted for 68.6% of the total funding invested, followed by APAC at 24.7%. European key markets and the Middle East combined accounted for about 6.7% of the global funding invested. Another key driver is the 93 mega deals recorded, of which 69 were closed in the United States, followed by APAC with 21 deals.
2020 has also been an important year for Digital Health Exit deals. After a prolonged period of low activity in the public market, digital health recorded a total of 17 ventures listed on stock exchanges across the globe, up from just 6 in 2019. Digital health ventures also benefited from the new trend in public listing with two digital health ventures choosing a SPAC to go public.
United States Digital Health Ecosystem Key Trends
The United States closed the year at $17.04B in venture capital funding for Digital Health ventures, up 59% from 2019, across 462 deals.
Funding was deployed to ventures in 31 out of the 50 states in addition to Washington D.C., with the most funding ($8.83B) being deployed in California. New York, Massachusetts, Minnesota, and Texas rounded out the top 5 states in venture funding, resulting in 84% of the funding being deployed in the top 5 states.
For the U.S. ecosystem, the first quarter of 2020 had the highest deal volume, while mega deals in the second half of the year led to the top quarters in global history for digital health funding, with $5.04B and $5.26B for Q3 and Q4 respectively. Exits contributed significantly to the U.S. digital health ecosystem, resulting in a total deal value of $57.9B, up 415% from 2019.
Venture funding increased across all stages compared to 2019 with the exception of Series A funding. Notably, funding for both Series C and Series D & Beyond increased by more than 2.4x YoY.
The U.S. report takes a deep dive into the Digital Health Cluster of Telemedicine, where the deal volume increased by 28% YoY and the total venture funding deployed increased more than 4x compared to 2019 to reach $2.4B. Further digital health funding trends in the U.S. include the therapeutic area of Mental Health, which recorded a total of 53 venture funding deals to achieve a total of $1.48B.
Despite possible influence from the global pandemic, funding deals were deployed nearly linearly throughout the year.
Asia Pac Digital Health Ecosystem Key Trends
Since 2015, Galen Growth has been sharing the only comprehensive report on the key trends and insights in APAC that are essential to corporations, investors, and digital health ventures. In 2020, APAC Digital Health ecosystem closed at $6.14B in venture capital funding, 25% higher as compared to 2019.
With just $1.39B invested, the impact of COVID-19 on the Chinese economy saw the first six months of the year in APAC at its lowest venture capital performance in APAC since 2016, down 57% as compared to H1 2019. With the reopening of the national economy in China in the second half of the year, a strong uptick in investment activity in the third and fourth quarter resulted in the largest quarters in history as well as 17 mega deals, a new record!
Overall, China accounted for $4.93B or 80% of the venture capital funding in APAC in 2020, up 50% YOY. Other sub-regions in APAC saw investments decreasing with South Asia at $476M, down 40% YOY, North East Asia at $392M, down 23% YOY, and South East Asia at $244M, down 5% YOY with only investment in Oceania increasing by 50% YOY to $104M.
With early and growth stage investment decreasing as compared to 2019, venture capital across Series D & Beyond stages accelerated, concentrating 45% of the total venture funding invested in 2020. The total investment value across these late-stage deals increased by a whopping 2.86x. Under the weight of the $3.5B IPO by JD Health, total deal value in Digital Health in APAC continues to increase, closing at $10.65B, up 2x as compared to 2019.
With more than $3.0B or 49% of the total deal value share invested, Medical Diagnostics, Online Marketplaces, and Health Management Solutions, represented the attractive digital health category clusters in APAC in 2020.
Partnership activity in APAC continues to be a success driver for digital health ventures to scale. Digital Health venture and member of Galen Growth's 2020 HealthTech Cohort, Us2.ai (formerly eko.ai) signed deals with AstraZeneca and Janssen Pharmaceutica for automating echocardiograms in September. In total, more than 350 new partnerships between digital health ventures, and corporates, hospitals, and academia, were established in APAC. Of note:
Europe Digital Health Ecosystem Key Trends
The European ecosystem closed the year at $1.31B in venture capital funding, down 45% from 2019, across 141 deals. The European analysis reports on 8 key markets, which we believe are representative of the European ecosystem as a whole. The most active country was the United Kingdom, which was the target of 45% of total deployed venture capital. The cumulative funding distribution in France and Germany together with the U.K. rounded out 80% of the European market.
Funded deals started 2020 in a strong position with 57 total deals in Q1, but the deal volume decreased steadily throughout the year to reach only 23 deals in Q4 and a total of only 1 mega deal for the entire year.
European ventures succeeded in realizing a deal value of Exits in 2020 with a total investment of $446M in IPOs and M&A. Despite this success in exits, venture funding was strongest for growth stage ventures, which captured 62% of the total deployed funding.
The European report takes a deep dive into the Research category cluster to examine the unexpected reduction of deal volume by 67% and reduction of funding by 76% compared to 2019. In contrast, Cardiovascular Diseases increased funding more than 3x compared to 2019 to become the most funded therapeutic area in Europe in 2020, capturing more than 10% of the total $1.13B funding deployed across all therapeutic areas.
Middle East Digital Health Ecosystem Key Trends
The Middle East closed the year at $555 M in venture capital funding for Digital Health ventures, down 16% from 2019, across 52 deals.
Israel remains the main driver in the Middle East, accounting for 95% of total funding.
The overall ecosystem, especially in Israel continues to mature, with the average investment size increasing to $13.1 M in Q4 2020, up more than 2.1x since 2016.
Despite the funding in the first three quarters of the year levelling off as compared to the same quarters in the previous year, the fourth quarter closed behind expectations both in terms of total funding invested, down 73%, and volume of deals, down 75%, as compared to the fourth quarter in 2019.
Despite the value of Exit deals increasing to $213M, up 50% YOY, total deal value in Digital Health, including M&A and IPO activities, in the Middle East decreased to $768M, down 5% as compared to 2019.
By Stage, Series A and Series D & Beyond deals saw higher total value invested, up 78% and 49%, respectively. Investment in Early Stages, Series B and Series C decreased after all stages had experienced an increase in 2019 as compared to 2018.
Viewed by category clusters, Medical Diagnostics solution providers were the most sought-after investment targets, collecting 56% of the total funding invested in the Middle East in 2020, followed by Telemedicine providers, accounting for 13% of the total funding distributed.
Only $266M or 48% of funding in the Middle East was invested in ventures with specific therapeutic focus areas. With $71 M invested, Infectious Diseases represented the therapeutic focus area attracting most funding, followed by Neurology and Oncology.
Looking Forward Into 2021
After a year of economic contraction, 2021 stands to be the year of the Phoenix for the global economy with a strong rebound of global GDP and corporate earnings thanks to the rollout of global COVID vaccine immunisation programmes and substantial policy support.
We therefore expect corporation leadership teams to switch to an offence play as they step up their efforts to transform their value chains to meet society's newfound expectations of both incumbents and new entrants.
The extremely low cost of funding and brightening economic outlook will be major incentives for M&A. This is supported by healthcare regulations, higher adoption levels of digital health and maturing ecosystems presenting very attractive strategic bolt-on opportunities.
The insurance industry is facing a paradigm shift the likes of which it hasn't seen in its history. The landscape has never been more competitive, with much research claiming that insurance is among the most at-risk of disruption from new tech innovations.
Environment, Social and Governance (ESG) investing will remain even more relevant than before. More specifically, the focus on social factors will see greater investment on companies which provide either a service to the community or a product to treat a human ailment.
Society's expectation of healthcare stakeholders has substantially changed throughout 2020 and the imperative need for change is being driven by political shifts such as the outcome of the USA general election.
Click on the links below to get your copy.
United States | Asia Pacific | Europe | Middle East
---
Important Information
With unmatched, unparalleled and indispensable coverage of the global digital health ecosystems, this executive summary, and our soon to be published individual regional reports, are powered by HealthTech Alpha, a Galen Growth proprietary solution, and the world's leading on-demand digital health intelligence platform.
Each one of the four Galen Growth regional specific reports is rich in trends and insights that are essential to investors, corporations and digital health ventures. Included in each document includes a Deep Dive section focused on the most attractive digital health categories and therapeutic areas and a Noteworthy section focused on top deals (VC & Exits), investors and partnerships.
Galen Growth will publish the much sought-after most comprehensive and accurate reports on the Globe's most dynamic digital health ecosystems (USA, Asia Pacific, Europe and Middle East) on Thursday 7th January 2021. These will be complimentary to all our subscribers.
To subscribe and receive a copy of our complimentary reports, visit us at www.galengrowth.com
This executive insight is provided solely for informational purposes and was prepared in good faith on the basis of public information available at the time of publication without independent verification. Numbers will be updated from to time to reflect information identified after the event. Galen Growth does not guarantee or warrant the reliability or completeness of the data nor its usefulness in achieving any particular purposes.
Galen Growth shall not be liable for any loss, damage, cost or expense incurred by reason because of any persons use or reliance on this report. This Executive Insight is a proprietary aggregation of publicly available and undisclosed data and shall not be forwarded or reproduced without the prior written consent of Galen Growth.